Generally speaking, I have always felt misunderstood. I don't know if everyone feels this way, but I've always sensed that most people just don't get what I am all about.
When I was growing up, I always said I wanted to go into politics. I think some of my friends in high school thought that this was fueled by narcissism and pride. Twenty years later, when we started Vintage Fellowship, some folks refused to support us, saying (not to my face, of course) that I was being driven by hubris. These kinds of statements hurt, but being misunderstood is a part of life, I guess.
Of course, no one's motives are completely pure, but I can say with a clear conscience that my motivation - whether to be involved in politics or to pastor churches – has always been a desire to help people. I want my life to make a difference. I want to help to make the world a better place.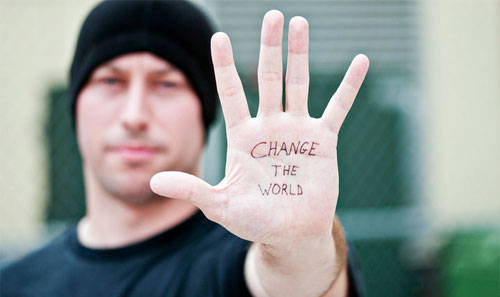 That sounds really stupid when you say it out loud.
We make fun of beauty pageant contestants for talking this way. And we roll our eyes at celebrities who use their fame to promote their latest cause. But many of us, maybe all of us, are wired to care about our world and the people in it. We were created for community, and we all have an innate sense of the power of our interconnectedness. Many of us have listened carefully to the internal impulses we sense to do something great with our lives, to live for a purpose greater than ourselves, to make a difference.
Surveys have shown that most journalism students are entering their field because they want to change the world. In the post-Watergate world, shining the light on corruption and telling the untold stories through journalism seems like one of the best ways to do that. Many musicians and artists, photographers and poets have the same motivation, wanting to bring beauty into the ugliness of the world.
I'm not sure I can think of a more noble purpose for a life. Beyond the pursuit of comfort, beyond the rush for new and better and more, beyond the struggle for notoriety and success, there lies something more profound - making a difference in the world - leaving the world a more peaceful, more beautiful, healthier place.
How about you? Do you want to change the world? And what are you doing to make a difference?
.